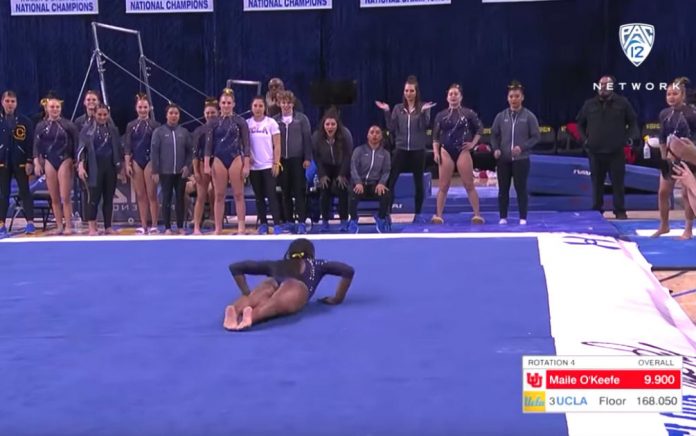 (GivenUs.com) – A mind-blowing Beyoncé montage routine by UCLA gymnast Nia Dennis recently went viral. Dennis' gymnastic skills are on point, and she's one of the best U.S. hopefuls for the Olympics. Check out her amazing skills!
Serving us flips the only way @DennisNia knows how 🗣

The floor queen grabbed a 9.95 for @uclagymnastics and earns the @OpusBank #12Best moment. pic.twitter.com/rLRbQxhf9q

— Pac-12 Network (@Pac12Network) March 8, 2020
Nia has been a competitive artistic gymnast almost her entire life. Currently on the UCLA Bruins women's gymnastics team, she's had a few struggles getting to the top.
In fact, Nia almost lost her dream a few years back when she was about to compete but injured her Achilles heel. It was a major setback, but she won back her high score at the following championship.
The takeaway? Don't let anything sabotage your dreams to become your best self.
Even if you need to take the time to recharge and regroup, do it.
Strive to be your very best every day, despite struggling when things hold you back.
Don't let your setbacks sabotage your dreams.
Find inspiration in the world around you – and let it drive you to better things.
No matter what curveballs life throws at you, role models like Nia show us that we can be strong when adversity strikes. We all have different strengths and weaknesses. Be the best you can be today, and the rest will fall into place.
~Here's to Your Success!
Copyright 2020, GivenUs.com