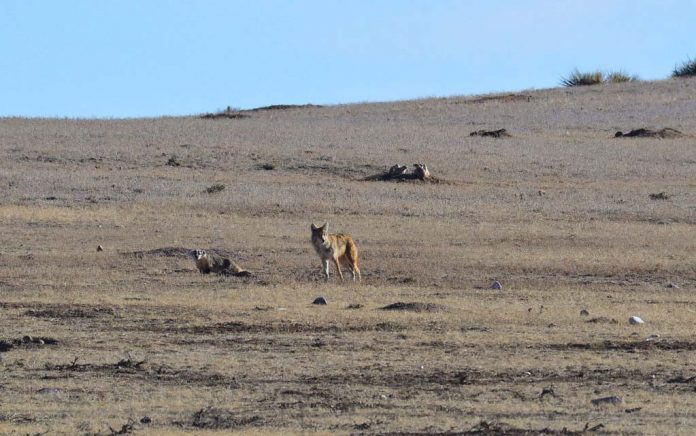 (GivenUs.com) – In a heart-warming exchange caught on video by the Peninsula Open Space Trust, a coyote and a badger travel together under a busy California highway drainage tunnel.
A coyote and a badger use a culvert as a wildlife crossing to pass under a busy California highway together. Coyotes and badgers are known to hunt together.

🎥Peninsula Open Space Trust pic.twitter.com/oS9BL5JOoK

— Russ McSpadden (@PeccaryNotPig) February 4, 2020
Coyotes and badgers do sometimes hunt together, but in this exchange, they appear to be interacting playfully, the coyote pouncing and wagging his tail, waiting for his badger friend to join him.
By working together, coyotes and badgers can hunt burrowing animals more successfully than if they were working on their own. We may think of wild animals as not very social, but this coyote and badger appear to have more than a transactional relationship. Perhaps they could even be friends.
While a coyote and a badger may seem like odd companions, this sweet interaction shows us friendship comes in all shapes and sizes. We can all work as a team, no matter our differences.
~Here's to Your Success!
Copyright 2020, GivenUs.com