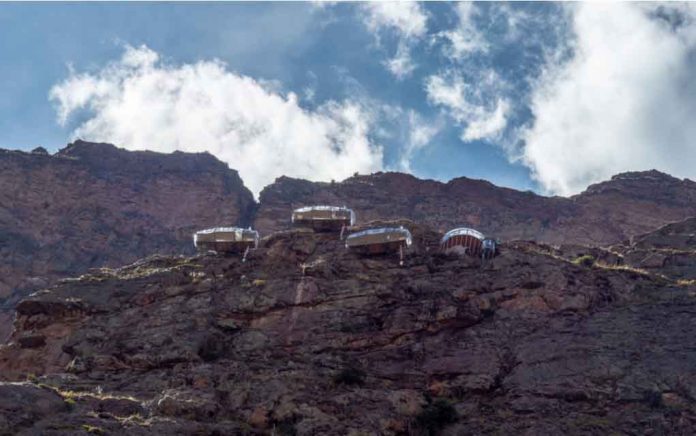 (GivenUs.com) – If you feel like getting away from it all, you're not alone! In fact, needing a break from routine could be exacerbated by pandemic stress. What if you could get away from it all in spectacular fashion? Consider these unusual places to stay. They aren't located on land or water. So… where are they?
If those lavish and unusual destinations are priced outside of your budget, consider these more affordable options.
Stay in a Treehouse
If you didn't have one as a child, you can live the dream by booking a stay in a real-life treehouse. Don't worry, it's not a poorly constructed tree shack in someone's back yard. Plenty of options exist on Airbnb and other sites for treehouse stays that are anywhere from basic to luxurious.
Book a Yurt
Want to camp but don't fancy a night on the ground? Consider glamping. Book a yurt. Many have air conditioning, refrigerators, and even television sets. A yurt is a tent-like structure with many added amenities — including an actual bed to sleep on. There's a wide range of prices to accommodate any budget.
Consider an Ice Hotel
You can actually stay in a glacier, ice cave, igloo or ice hotel around the world. These cool spots offer an unusual vacation experience you won't soon forget. Just remember to layer up!
Stay in a Covered Wagon
If you ever played The Oregon Trail, you're familiar with the Conestoga covered wagon. They're available in many locations, but one of the most notable is at Yosemite National Park. This could make an amazing and noteworthy getaway — minus the dysentery.
Staying in an unforgettable destination is as easy as looking online to assess what's available. You can comfortably live out your treehouse dream or sleep on ice — whatever your budget allows. Next time you plan a vacation, consider the marvelous outside-the-box places you could stay and maybe skip the plain-Jane hotel stay in favor of an irresistibly unique location.
~Here's to Your Success!
Copyright 2021, GivenUs.com