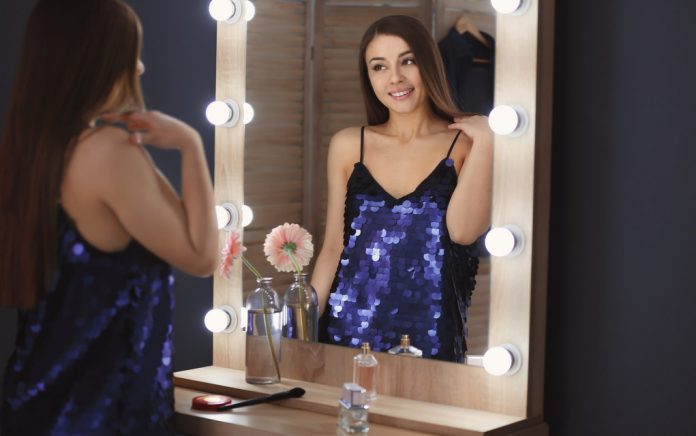 (GivenUs.com) – Beauty truly is in the eye of the beholder, although sometimes it seems that we're too hard on ourselves about the way we look. Do you find yourself constantly checking the mirror to see how everything falls into place?
Any mishap, bulge or ill-fitting clothing can send many of us instantly into a negative tailspin. The result? A huge lashing to our self-esteem. The good news is you can change it right now. Here's how.
Remind Yourself Who You Are
Now is the time for true reflection. Take a look in the mirror. What do you love most about yourself? Your hair, eyes? Maybe it's your sharp wit and sense of humor.
Even if you feel subpar, remember that your assets are something another person may only wish they had. Never take them for granted. You've accomplished so much and have a lot more to do! Look at your entire reflection. You've come a long way. That in itself is true beauty.
Place Positive Affirmations Everywhere
Always checking the mirror to make sure your eyeliner is perfect or your stomach stays covered in that jacket? Even if you're having a bad hair day, don't let it destroy your inner peace.
Affirm to yourself that you can take on anything life throws at you. You are smart and stunning. You are beautiful no matter what. Write what you love most about yourself and stick it all over the place, including the bathroom mirror, in your lunchbox or on your dresser drawers.
Showcase these healthy and positive affirmations everywhere. Rewire your brain to boost your inner self-critic, not destroy it.
Treat Yourself
Daily life can often leave us feeling worthless and run down. It also leaves little time to take care of our basic needs. Always take time out for yourself. Nurture mind, body and soul for a true refresher.
Indulge in a full body massage and your favorite chocolate bar. Go to the pool and relax your mind with the sound of water. Doing little things for yourself can have a big effect on negative self-stigma.
Avoid the Mirror
Having the mirror set up strategically as you get out of the shower can be a distraction. This is the starting point where you may begin to tear yourself down. If you become obsessed with looking at it, move it. Avoiding it all together will help stop self-stigma and allow you to concentrate more inward. Remind yourself you are beautiful and that what you carry inside is what truly counts.
The truth is we are our own worst critics. We judge and beat ourselves up for simply just being who we are. Remember, you are more than that. You are that one shining star in the universe of billions. What makes you special and unique is that there are no duplicates. It's time to ditch self-stigma and shine bright like the diamond that you are!
~Here's to Your Success!
Copyright 2021, GivenUs.com