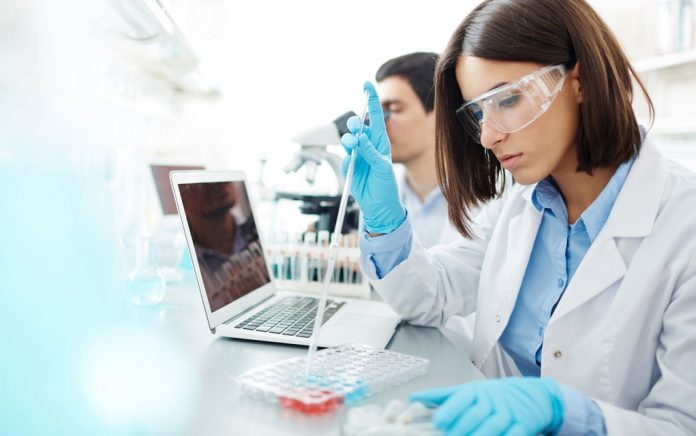 Are you intrigued by the elements that determine who has blue eyes among a family of hazel-eyed people? Do you want to make a difference in the lives of families who are meeting the challenges of a special-needs child? Science and medicine come together in a fascinating career that can also give you great satisfaction. As scientists continue to make headway in the field of genetics, it becomes increasingly important for parents, families and individuals to consult with a professional.
A Day in the Life of a Genetic Counselor
Because being a genetic counselor involves significant interaction with people and you'll sometimes have to deliver upsetting news, you'll need to be compassionate, articulate and knowledgeable. When meeting with clients, you need to assess their risks of having or passing on genes, recommend the appropriate testing options and interpret the test results.
Entry-Level Educational Requirements
A career as a genetic counselor requires about six years of post-high school education.
Because the major you choose for your undergraduate studies typically doesn't affect your ability to become a genetic counselor, this career can be ideal for those people who are changing careers or who didn't have a clear career objective during their college years.
Once you've obtained your four-year degree, you'll need to pursue a master's degree in genetic counseling or genetics. The successful completion of these two additional years of schooling will provide you with the skills and knowledge you need to become a board-certified genetic counselor. Then you will have to take the national certification exam overseen by the American Board of Genetic Counseling (ABGC).
https://www.gapmedics.com/blog/2014/06/24/career-exploration-becoming-a-genetic-counselor/)
Salary and Benefits
According to the Bureau of Labor Statistics (BLS), the median pay for a genetic counselor was $74,120 per year in 2016. As of 2014, there were 2,400 genetic counselors in the United States. This career has a strong outlook through 2024 with the BLS projecting a 29 percent increase in the number of jobs. This equates to an employment change of 700 jobs in the decade between 2014 and 2024.
If the idea of having a cutting-edge medical career where you can change lives by assessing a person's or family's risk of acquiring inherited diseases appeals to you, consider a career as a genetic counselor. In doing so, you'll become one in an elite career that is also rewarding financially.