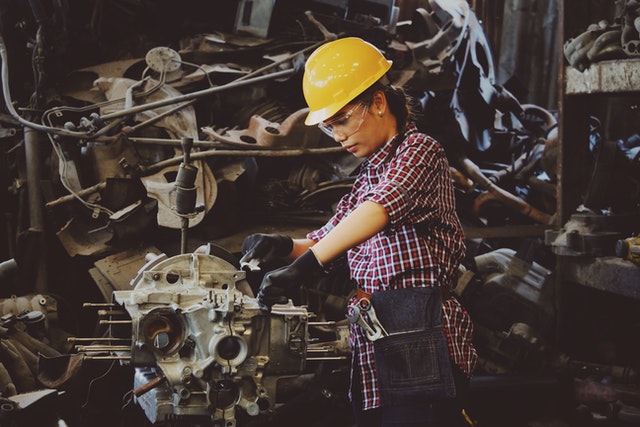 College is an investment that many people have to pay off for years of their lives. The Education Data Initiative reports that 43.4 million people in the U.S. have an average of $37,014 in student loan debt. 
Some jobs help employees pay off their loans, whether it's a portion or in full. A lot of these positions are government-based. USAJOBS.gov offers a list of government jobs that are in high demand. You may find some of these worth looking into.
Public Service Loan Forgiveness (PSLF)
This is a government program that will pay the remaining balance of someone's student debt with some qualifications. 
Must work a government job full-time. Some non-profits apply. 

Make 120 payments under an income-driven payment plan. 
This is a great program to keep in mind as you look for jobs after your higher education. It helps a lot if you have been paying off your loans for years and cannot seem to beat the possible interest. 
Teacher Loan Forgiveness
This is available to teachers who are certified and have at least gotten their bachelor's degree. You may qualify for this program if you have been conducting direct classroom teaching for 5 consecutive years. 
Here are some careers you may be able to do while qualifying for these helpful loan forgiveness programs:
Teacher
You can become a full-time teacher in a low-income school. This helps you qualify for the main two government programs that will help you shave off your debt. You can't do both programs at the same time, though. 
Economist 
The government needs people who love to look at the economy and commerce as a full-time job. You could pick up this gig and qualify for a forgiveness program. 
Mechanical Engineer
Infrastructure plays a huge role in any society and there is always a need for a mechanical engineer. Being a mechanical engineer opens the door for jobs that qualify for PSLF. 
Statistics
People who love numbers would be great for this position! This job collects and analyzes numerical data to gain more insight about the problems affecting society.
Nurse
This career usually takes a long time to get all the certifications necessary, so it's even more helpful to have loan forgiveness. What better way to kill two birds with one stone than to pursue your dream job and get help with your debt?
Lawyer
You usually might think of lawyers as private, but there are plenty of opening for government attorneys that align with the PSLF requirements.
Religious Pastor
This is an option if you can work for a non-profit organization full-time. Doing so will qualify you for the PSLF program. 
Events Manager For a Non-Profit
You can find full-time positions like this for many non-profit organizations. Events managers coordinate things like fundraisers and gatherings, and it is considered to be a public service.
For more career ideas, consider our article Best Careers You Can Get With Just An Associate Degree.