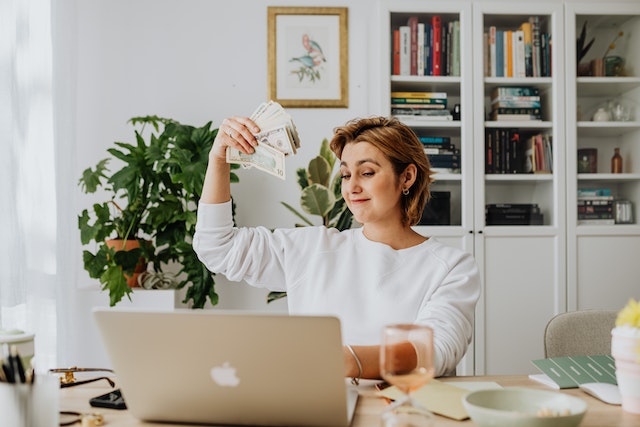 Making money on your laptop has never been easier than it is right now. There are loads of jobs and side gigs you can pick up right now that will make you big bucks. Do you know how to transform a device such as your laptop into a money-making machine?
Working remotely is a great way to earn money without leaving your home. Many people don't know that it's possible to get more money working certain remote jobs than in in-person jobs.
It's about time you started making money more efficiently. Here are a few jobs you can get started with that will turn your laptop into a money-making machine. 
Remote jobs and side gigs…
Content Writing
If you like writing, this is the job for you. Many companies are looking to hire ghostwriters or authors for great pay. 
Don't be intimidated by the title- you don't need an English degree or anything fancy for this role. Many people take on this role without prior professional writer experience. All it takes is a knack for words and a little creativity. 
Data Entry and Transcribing
Data entry may not sound like the most appealing job, but it works great if you need flexible hours. Transcribing jobs are also high-demand jobs that are flexible and super simple.
Translating
If you're fluent in another language or two, this is the side gig or career for you. Whether working for a company or independently contracting, becoming a translator can be a great career opportunity. 
Online Tutoring
Online tutoring is an excellent opportunity if you have a heart for helping others learn. While some jobs can be simply helping with math, science, or English homework, you could even teach internationally! Many online companies and platforms are looking for English teachers for students in various countries.
Content Creating or Blogging
If you're someone who enjoys expressing yourself through creating or writing, these jobs are right up your alley. Although it may take some work to build your following, being a content creator can be extremely rewarding and fun.
Freelancing 
What are your hobbies and interests? What is your college degree? You could get money doing some of the things you love!
Companies can use freelancers for a variety of reasons. Whether it's writing, editing, photography, creating, or consulting- there's bound to be one for you.
Marketing
If you enjoy sales but not the strict sales job schedule, affiliate marketing may be a viable path. This job allows you to promote products or services for commission so you can make a ton of money. 
Bookkeeping
If you want to learn the ropes of bookkeeping, you can easily make good money freelancing or working for a company. This virtual job allows you to supervise and attend to the financial records of companies. 
Customer Service
If you find a company or service you love, this job could be great. If you have a heart for helping people, look into what companies need remote customer service workers.
Completing Tasks
It sounds a little crazy, but some companies will pay you to complete random tasks. Working for companies like Airtasker and Taskrabbit can be an exciting opportunity to have a different job every single day. 
Becoming a virtual assistant is another job that suits those who get bored doing the same tasks over and over again. You can spend your time assisting entrepreneurs, business owners, or a variety of other people.

You have tons of options!
There are so many jobs that allow you to work from home. Consider a hobby or interest, and research the possibilities for a remote job in that field. You never know what you could find!
It's never been easier for you to turn your laptop into a money-making machine than now! Explore your options to find a job that you both love and can fit into your schedule. It's not as hard as you might think.