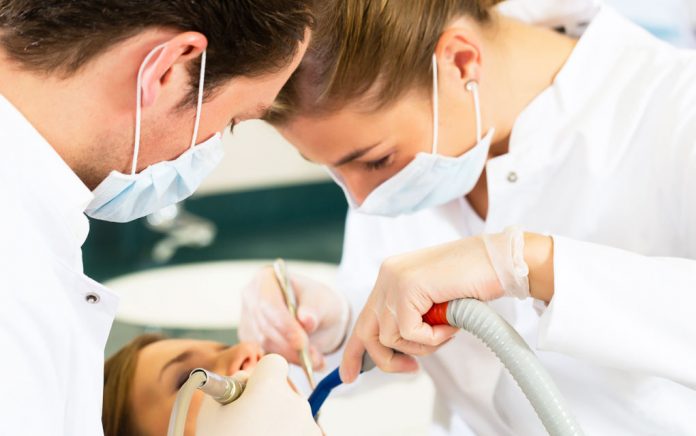 One of the best things about working in dentistry is helping people become confident and comfortable with their teeth. A career as a dental assistant can provide a fast-paced environment, good working conditions and an attractive salary. Not only is this profession in demand, but you can also enjoy the satisfaction of helping patients achieve brighter, healthier smiles.
As a dental assistant, you'll most likely work in a dentist office, though your job duties may vary depending on where you work. Some examples of possible job duties include preparing the instruments and exam room, prepping the patient, documenting the care the patient received, managing medical supplies and more.
Education
Becoming a dental assistant requires formal education at one of the programs accredited by the Commission on Dental Accreditation (CODA) which is overseen by the American Dental Association (ADA). While most of the programs in the United States take between 9 and 12 months to complete, there are some technical schools, universities and dental schools that provide alternatives to this schedule. For example, you might be able to find a vocational school or community college that offers a part-time program providing an accelerated schedule or virtual training.
Once you have completed your educational program, you must be certified by passing the Certified Dental Assistant (CDA) exam, delivered by the Dental Assisting National Board (DANB).
In some cases, you might complete a dental assistant program that has not been accredited by the CODA or you might have received on-the-job training instead of postsecondary education. If so, you're eligible to take the national CDA examination once you have completed two years of work as a full-time dental assistant.
Not all states require that dental assistants pass all components of the CDA examination in order to be licensed and in compliance of regulations. Some states recognize the successful completion of certain parts of the exam, such as the Infection Control portion or the Radiation Health and Safety component. In still other states, no formal education is required, although a dentist could mandate it as a condition of employment.
Specializations
Just as other medical professionals can specialize in a particular area of interest, so can dental assistants. In addition to being employed with a dentist that offers general dentistry services, you could also assist pedodontists, periodontists, endodontists, orthodontists or oral maxillofacial surgeons.
Salary and Benefits
In 2016, the average yearly salary for a full-time dental assistant was nearly $37,000. More than 318,000 dental assistant jobs were available in 2014. The Bureau of Labor Statistics (BLS) expects the dental assistant industry to grow at a rate that is much faster than average. Between 2014 and 2024, the BLS expects that the industry will increase at a rate of 18 percent and add 58,600 jobs.
If you find the idea of performing a range of different tasks for the dentists in your practice satisfying and exciting, a career as a dental assistant could be the right one for you.