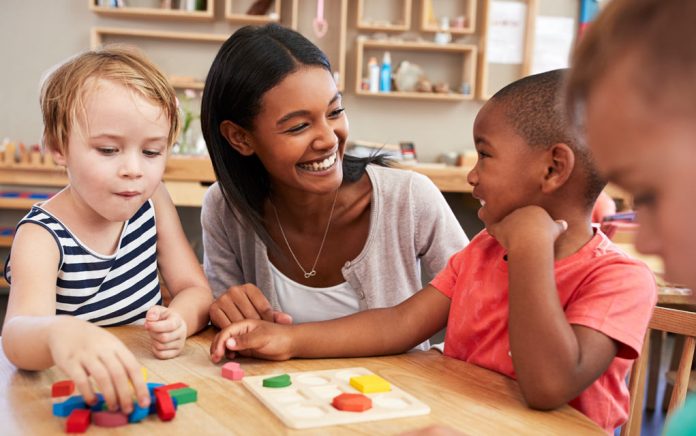 You want a rewarding career where you give back to your community, but you don't necessarily want to sacrifice your income. You're considering teaching, but you want to explore your opportunities to be sure you make the right choice. In this post, we'll teach you about five rewarding careers that extend your choices and get you deeper involved with education in new and exciting ways.
Quick Read:
An education degree provides many opportunities both inside and outside of the classroom. You can work as an ESL teacher, school social worker, educational diagnostician, juvenile probation officer, or health educator if you have a Bachelor's or Master's degree in education. Scroll through these job descriptions to learn more.
Change Lives — Including Your Own — When You Use Your Education Degree to Get One of These 5 Jobs.
ESL Teacher
Teaching is a popular career path for many education degree seekers, but what if you don't want to teach a specific subject or grade level? Before you completely rule out a teaching career, consider becoming an ESL teacher at a K-12 school or a local college.
An ESL teacher, also known as an ESOL teacher, helps non-native English speakers develop effective communication skills. This includes teaching verbal and written skills, as well as explaining nonverbal communication styles that are unique to the United States. It's hard work teaching these concepts, but the position pays well — way better than many traditional teaching jobs, in fact. Expect to earn anywhere from $30,000 to $90,000 per year as an ESL teacher. Some ESL teachers even have annual salaries that exceed $100,000.
School Social Worker
Life is rough sometimes, and it's difficult for students to succeed in school when their personal lives are in shambles. A school social worker addresses concerns that hinder educational success, whether a student comes to school hungry each day or has a parent in prison. Social workers work one-on-one with students as needed, but sometimes they involve the entire family. For example, a school social worker may give a single mom resources to local food pantries or support groups if a family is struggling.
School social workers typically earn half as much as the highest paid ESL teachers, about $50,000 per year. You can increase your salary by furthering your college education, such as earning a Master's degree if you have a Bachelor's.
Educational Diagnostician
Special-needs kids thrive with guidance from patient, compassionate individuals. An educational diagnostician, also known as a learning consultant, helps kids with Autism, developmental delays and behavioral disorders succeed in a traditional school. As an educational diagnostician, you may give IQ tests, attend IEP meetings, and oversee special education training for teachers.
Salary varies based on experience and education, but you can expect to earn between $44,337 and $68,667 per year as an educational diagnostician.
Juvenile Probation Officer
Do you have a soft spot for young felons? Help kids convicted of crimes get their lives back on track by working as a juvenile probation officer. You'll help make sure kids under 18 honor court-ordered requirements, whether a judge tells them to stop smoking marijuana, attend school full-time, or undergo counseling. Expect to have a heavy caseload and to deal with multiple teens each day.
Probation officers typically earn anywhere from $30,000 to $90,000+ per year. If you work at a state office, you may also receive an impressive benefits package with paid holidays, vacation time, and health insurance.
Health Educator
Working as a nurse exposes you to germs, blood, and vomit, and you generally spend long shifts on your feet. This is not ideal for many wellness warriors, which is why they become health educators instead. Health educators teach kids and adults how to protect their physical and emotional well-being by implementing lifestyle changes or seeking out community resources. When you aren't coaching people, you may spend time behind a desk, analyzing health-related trends and barriers to wellness.
Health educators typically bring in around $60,000 per year. You may work for a company or offer freelance services — either way, expect to do some local traveling. Health educators often visit multiple sites rather than meeting clients at a single location.
An education degree opens the door for plenty of career options, whether you want to work with kids or adults. You can develop a satisfying career enriching the lives of others — and you can start right at home, too. Complete an education degree program at an online school or local college.