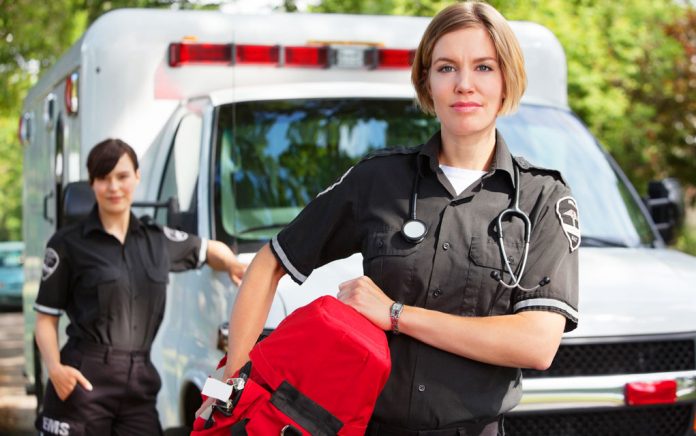 Some careers are all about intensity and the adrenaline rush that comes with your day-to-day tasks. Emergency Medical Technicians and Paramedics are perfect for those people who enjoy high-stress situations and want to help people at the same time. They give basic and non-invasive emergency treatment to stabilize victims until they reach an Emergency Room.
EMT Salary and Benefits
EMTs received a median pay of nearly $33,000 in 2016. It's a fair amount compared to other medical fields, but the greatest strength of this career is the stability. The field is expected to grow 24 percent over the next ten years. EMTs will continue to stay in demand for the foreseeable future.
The working conditions are not easy for an EMT due to the nature of the job. They work full time, including holidays, with the occasional 24-hour shift and may have to be on-call depending on the employer. They're constantly in physically and psychologically stressful situations, even though many cases they encounter aren't dire. There are times where an EMT will deal with life-or-death situations, and there's only so much they can do. This intensity is part of the job and is why many of them sign up.
EMTs typically get generous benefits to compensate for the high-stress situations they work in. They often receive paid time off, excellent retirement options, a full suite of medical insurance plans, life insurance, and various bonus perks that vary between employers. Those who love and stick with an EMT career are highly valued and receive generous compensations to keep them around.
Educational Requirements for EMTs
Requirements to become an EMT are somewhat low in comparison to other medical careers, but they do require a license that takes some time to obtain. EMT prospects must take a course to earn their license. Advancing to Paramedic requires an associate's degree on top of this license. Paramedics play the same roles EMTs do, but they have a higher salary, are authorized to use more medical tools and drugs, and can perform more invasive operations or treatments if required.
This EMT training course takes around 16 weeks to complete, but it's not a cakewalk just because it's less time than an associate's degree. It's a hard-hitting crash course on the essentials you need to know. None of it is optional, and many students have to take it two or three times before passing it. Obtaining the license is just the beginning; staying in the discipline and being a good EMT demands that you continually learn throughout your career. There are many conditions and injuries the basic training won't teach you, and it's up to you to learn about them. So, are you ready to save lives?