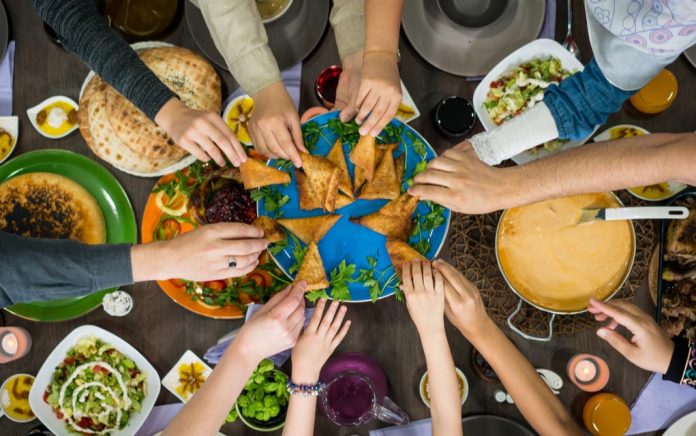 (GivenUs.com) – College and dorm living can bring a lot of temptation when it comes to food. With mom's meatloaf and big Sunday breakfasts out of reach, it's easy to grab something out of a box or hit your favorite fast food hotspot. So how can you incorporate healthier choices? Check out this student's guide to healthier eating.
Do Some Meal Planning and Prepping
With due dates coming at you left and right and all-night study sessions in full swing, the last thing you want to do is sit down and plan your meals. But it can be an effective and time-savvy way to get the right nutrition throughout the week.
Carve some time out of your day to plan a grocery list to set up meals and snacks for the week. In addition, try to prep as many meals as you can. Roasted sausage and veggies is one meal you can make on Sunday that will stretch a few days into the following week.
Choose Budget-friendly Dorm Room Meals
When meal prepping is out of reach, you need some healthy go-to meals that you can prep and eat straight from your room. Here are a few ideas:
Tuna salad wrapped in lettuce cups
Sliced fruit and nut butter
Frozen waffles and blueberries
Bagels for breakfast and quick toaster oven pizzas for lunch or dinner
Being creative can keep you out of a food funk. Shop a week in advance and buy items that are affordable and on sale.
Stick to Three
Growing up, your parents probably had you stick to a basic three-meals-a-day eating plan. Simple, right? You can still follow that same rule of thumb by choosing to eat breakfast, lunch and dinner. In between, choose healthy options like fruit, cut-up veggies and nuts.
Keep your options simple by choosing foods from each of the basic food groups. Always portion your three main meals accordingly to avoid added calories. Fill half your plate with fruits and veggies, a quarter with a low-fat protein, and the rest with whole grains.
Replace Junk Food with Healthy Options
Health.gov suggests the average adult female should take in between 1,600 to 2,400 a day and the average male no more than 3,000 calories. Grabbing fast meals or eating junk food can cause calorie counts to get out of control.
Fill your room with easy-access healthy snacks. Non-processed foods are best, such as:
Boiled eggs
Celery and carrot sticks
Mixed nuts
Yogurt
Non-dairy smoothies
These are just a handful of suitable options to substitute for unhealthy choices like chips, candy and fast-food snacks.
If you're concerned with gaining some weight while away at college, that's expected. There is temptation at every corner and convenience reigns supreme. Know that there are simple resolutions and alternatives to what you're used to. Take time to focus on your studies and worry less about what's on your plate!
~Here's to Your Success!
Copyright 2020, GivenUs.com