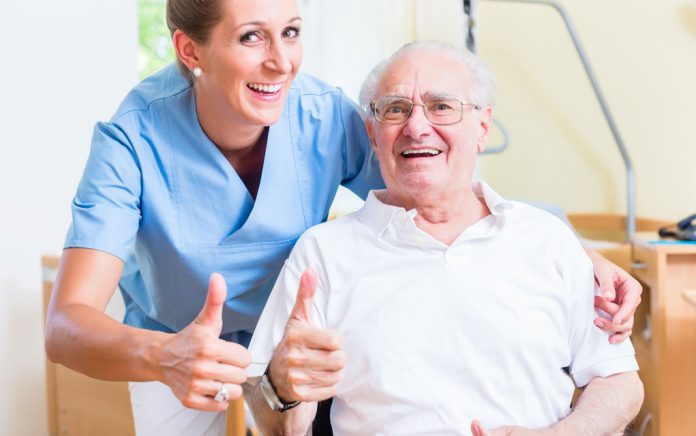 Do you feel a calling to help people? Do you wish to make an impact in your community for the elderly, the disabled, or those who have difficulty caring for themselves? If so, your calling may lead you to become a personal care aide. This career will find you working in a hospital, nursing home, personal care home or assisted living facility where you can greatly improve the quality of life for residents.
Job Duties
A personal care aide's title provides a pretty accurate description of their duties. A person who is not able to perform daily care duties on their own can often benefit from the services of a personal care aide. Some examples of the varied job duties you can expect are preparing meals, dressing your patient, performing simple housekeeping chores, lifting heavy objects and helping the patient bathe.
Depending on where you work, you might have anywhere from one to multiple patients to care for at any given time. You might also have a rotating roster of patients that changes each time you work or you could work with the same patient for the duration of your assignment.
Education
A career as a personal care aide requires little formal training. It does, however, require a short period of on-the-job training. For this reason, many people who are interested in a career in medicine or nursing may start out an an aide to hit the ground running. While many employers require no formal training, there are optional certifications available from organizations such as the National Association for Home Care and Hospice (NAHC).
Salary and Benefits
The Bureau of Labor Statistics (BLS) has projected a much faster growth pattern for personal care aides than average. In 2014, about 1.8 million jobs were held by personal care aides, with an average annual salary of slightly over $21,900. From 2014 through 2024, the BLS expects the industry to experience growth of 26 percent and add more than 458,000 new jobs.
A personal care aide also provides valuable social benefits to those patients who are not able to care for themselves. In a residential setting, for example, a personal care aide can help the patient participate in community activities.
This can be an exciting and rewarding career for someone who truly enjoys making someone's life better, more comfortable, and fulfilling.