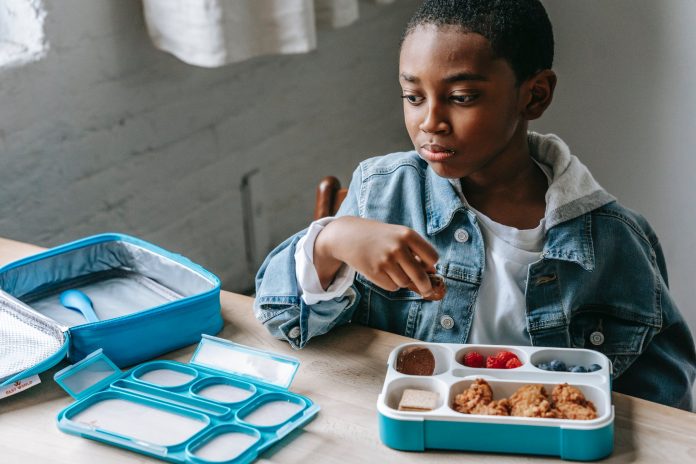 When kids go to their lunch break, there's a lot of social pressure to get the "right" kind of food. Students trade snacks to get the ones they want, and extra special meals serve as bragging rights to all their friends. If they don't like what they have in their lunch, it all ends up coming home with them anyways. A little creativity when packing your kid's lunch can improve their experience, and show how much you care.
Do your kids tend to get picky when it comes to their lunch choices? These easy meal prep hacks will totally change the way you pack your kid's lunch.
1. The Apple Trick
There's nothing more gross-looking than brown apples. When you cut them in the morning, the slices are guaranteed to turn a brown color throughout the day. Although it doesn't affect the taste, it tends to deter kids from finishing this healthy component of their lunch.

After you slice the apple, put it bag together and wrap it in a rubber band. This will keep the core from being exposed to air and becoming oxidized. 
2. Sandwich Magic
There's nothing nastier than a soggy sandwich. Mayo ends up seeping through the pores of the bread while a slice of tomato completely disintegrates the sandwich by the time lunch rolls around. Give your kid the freshest sandwich possible by making a DIY sandwich kit. It looks super organized and keeps all of the ingredients fresh. No more soggy sandwiches that never get eaten!
3. Containers Galore
We eat with our eyes, and kids do too. Making their meal look more organized and compartmentalized looks a lot more appealing than throwing everything in one container. 
Find a large container that can fit several smaller containers inside of it. That way, nothing gets smushed in the time between arriving at school and breaking for lunch. It also looks a lot fancier when you pack lunch with intentionality. 
Check out the video for more tips and tricks on packing a fun lunch that your kiddo will love! 
For something fun to do with your kids check out our article, 5 Showstopping Vacation Destinations for Kids!