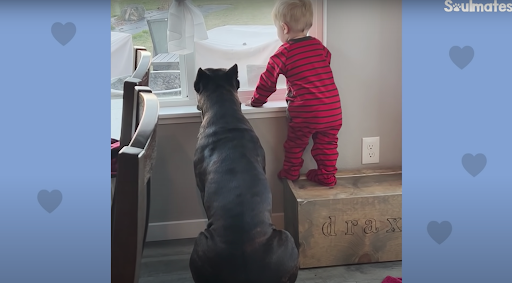 His forever family adopted Drax at 8 weeks of age. At that point, he was just a mid-sized puppy with a lot of energy. Not long after he was adopted, his owner realized that she was pregnant with her first baby. The puppy turned gentle giant was about to be a big brother.
As her pregnancy progressed, Drax was so excited about the possibility of having another friend to play with every day. The thing is, Drax is a Cane Corso- a dog breed with an average weight of 99-110lbs. He's a big boy, but he also has a big heart.
Check out this heartwarming to see how this gentle giant has bonded with his human baby brother. 
Their Bond
From the moment their son was born, Drax's owners focused heavily on socializing the two of them. Having a large dog can be scary if there's any possibility of behavioral issues or aggressive play. By desensitizing this sweet Cane Corso to their baby, Drax was able to have a very special bond with the infant. 
Drax became a protector of the baby and was attentive to his every need. They spend every moment together. Every time the baby learns a new skill, Drax is right there behind him to cheer him on.
Precious Play
This dog does nothing without his little human sidekick. Whether they're playing in the ball pit or sliding down the park slides, everything they do is always side by side. Together, they're breaking down the stigma of large dogs being "dangerous" or "threatening." With the right amount of love and training, even a 125-pound Cane Corso can be the perfect companion for a small toddler. 
Maybe you prefer smaller dogs to the gentle giants? Then check out our article on a dancing chihuahua Don't Dog His Moves!