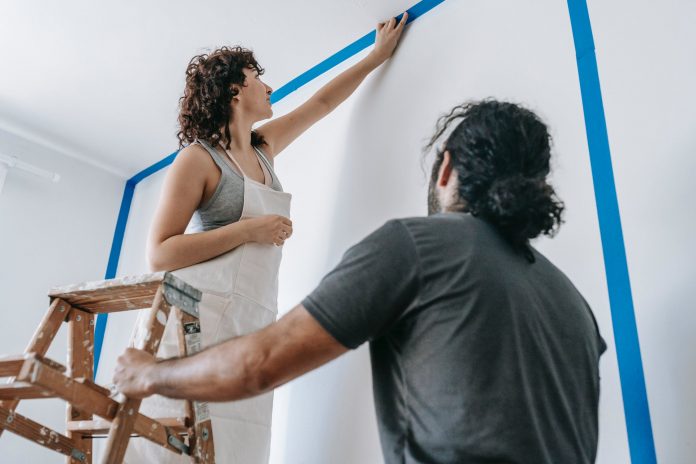 The real estate market has seen its ups and downs as values have peaked, then dipped, and peaked again. The market may be ever-changing, but one truth remains the same: Buyers want the most house for the least amount of money, while sellers want to make sure they get top dollar for their homes. 
Sellers, take note! There are cheap ways to skyrocket your home's value that won't wreck your budget in the process. 
#1 Paint
It seems simple enough, but a fresh coat of paint can work wonders! Just make sure to choose neutral colors rather than bold ones. Consider a semi-gloss to add brightness or an eggshell finish to cover up minor flaws. Porch Daydreamer ranks some of the best neutrals, which include Unforgettable, Ultra White, and Swiss Coffee.
#2 Clean
No one wants to tour a dirty house, but even a regular cleaning may not suffice when it comes to enticing buyers to open their hearts (and their wallets). Consider paying someone to do the deep clean or do the work yourself. Some of the most overlooked areas include baseboards, blinds, fans, and vents. It couldn't hurt to steam clean the carpet, wash windows and walls, and even replace torn screens. 
#3 Pressure-Wash
It may be worth your while to pressure wash your home, driveway, deck, and sidewalks. You might be able to rent a pressure washer from a local hardware store, or you can pay to have someone take this task off your hands. Curb appeal can add value to your house, and the clean look will gain the attention of potential buyers.
#4 Update Bathrooms
You may not be able to afford to renovate your bathroom, but it won't hurt to give it a fresh look. Add a new shower curtain, replace the toilet seat and add a few decorative touches. Throw in a nice rug and upgrade the showerhead for a little extra attention.
#5 Out With the Old
Some decorative touches will automatically date your home. Popcorn ceilings and what is commonly known as "boob lights" for their breast-shaped appearance are two decorative eyesores that will likely draw attention to the age of your home.
There's a simple solution to fixing ceiling cleavage, and a qualified contractor can help you get rid of popcorn ceiling if you don't feel quite up to the task. Even old outlet covers could have your home looking dated. A few simple fixes around the house could be just what your home needs to look more attractive on the market.
#6 Add Landscaping
Curb appeal is more than just whitewashed siding, driveways, and decks. Add a few landscaping touches to really spruce up the outside of your home. Pick up a few decorative pots at your local garden center with bright plants in them to attract buyers your way. A few whiskey barrels of flowers won't double your property value, but it could help your home look more appealing.
#7 Address Storage
A house with tiny closets and little to no storage may struggle on the real estate market, but there is a fix that doesn't involve an addition to your home. Organizing your tiny spaces well can show a potential home buyer how to maximize each room. Attractive storage options can demonstrate that small closets don't need to be a deterrent. You can choose a built-in route or buy inexpensive storage containers; either will help buyers see the potential in even the smallest spaces. 
#8 Get an Inspection
Prospective buyers will almost certainly pay for an inspection. You should, too, if you plan to put your house on the market. Why? It will help uncover problem areas that people considering your home will find during their inspections. You may be able to fix some of the smaller issues that aren't readily apparent. Buyers may not realize you've made these fixes, but you'll be removing a potential bargaining chip when it comes to negotiating that final sale price for your home. 
You don't need to launch a complete renovation to sell your house and improve its value on the market. You just need to put in a little elbow grease and consider what the overall property will look like to others. A few small, inexpensive changes could be all it takes to skyrocket the value of your home.